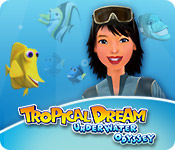 I recently got the chance to beta Tropical Dream: Underwater Odyssey by Digital Chocolate. I usually love betatesting new games, I get a sneak preview and the chance to run my mouth to the developers. Before I say anything else, I should make it clear that I played the beta, and things may change for the final version.
I thought the premise of Underwater Odyssey was perfect: Young Megan leaves her boring job for expat adventures in exotic locations! But things are not quite as advertised, and she must rely on her wits and creativity to survive! Could it be any better?
At the end of the introductory sequence, Megan decides to become an underwater photographer, which is when the game starts to go downhill.
It's about as fun as watching the old Windows fishtank screensaver, and taking a screen capture of pretty fish. No, really. That's the game. If you get it right, the fish smile at you. Then you come up for air.  If you got the right fishy photos, you can hang up your best pictures in your house, and then do it all over again. I almost cried when I saw space on my wall for seventy-odd photos. If you didn't get the right photos before you ran out of air, you go back down and try again. (You can't drown yourself. I tried.)
I started to think it was a joke, like you play this repetitive "game" for a few moments and then you surface and realize that aliens have landed! And Megan has to save the world!
But that didn't happen. The break in the fish-photo action was a Bejeweled-type minigame with Roman and Chinese coins. Sounds like a recipe for an awesome Meggish minigame, but it was completely overdone which went from cute to annoying in about three musically-accompanied, over-animated clicks.
I'd been wondering what I'd do if I played a game I really didn't like. Not write about it? Take, for once in my life, the old advice about what to do if you can't say anything nice? Say something politely bland about it not being quite my style? And then I remembered that I'm the editor and publisher here, so I assigned myself to write an honest editorial. Simpson's Paradox: Your source for hard-hitting journalism in the world of casual games.