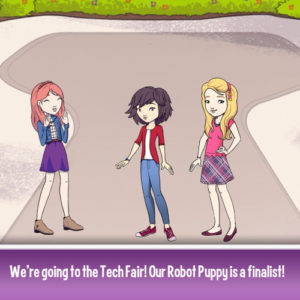 In the new iOs game Nancy Drew: Codes and Clues, tween Nancy Drew, along with her usual pals Bess and George is about to enter their robotic puppy into the school tech fair. (Sound familiar? A robotic puppy was also Barbie's project in thatdisappointing Barbie programming book. Previous Nancy Drew releases from Her Interactive have done a great job avoiding the pink and cute trap, so I really hope robo-puppy will be upgraded to a robotic T-Rex in future games. I mean, every time we see girls engaging with code and development, it does a little bit to dismantle programmer culture, but I still hope the next round of these products will move beyond packaging programming as a cute puppy.) When another girl's project disappears, the three friends are on the case, collecting clues and questioning other students!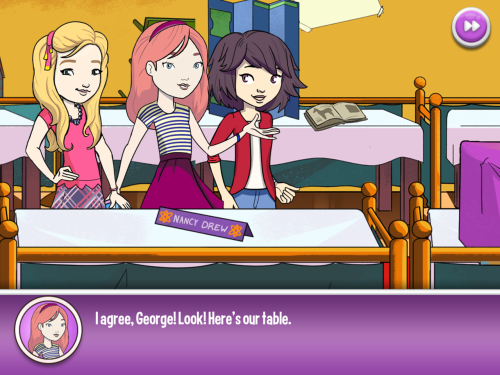 This follows the Nancy Drew game pattern of alternating hidden object scenes to collect clues with Nancy talking to witnesses and suspects.  The difficulty is scaled down perfectly for a younger crowd, with lots of repetition in the clues, and a suspect notebook to check later. I can definitely see this introducing younger players to the Nancy Drew case files series.
The coding section basically adds a minigame into the beloved Nancy Drew mix of hidden objects scenes and mystery clues. After each stage, Nancy, George and Bess send their robotic puppy to sneak around or get to the exit. Players need to use simple commands like forward, up, down, and crawl to get robopup to the goal. Later levels introduce loops and so forth. It's hard to mess up these challenges — even trying to fail, I couldn't. You could easily hand this to an elementary school student, without worrying about any programming frustration.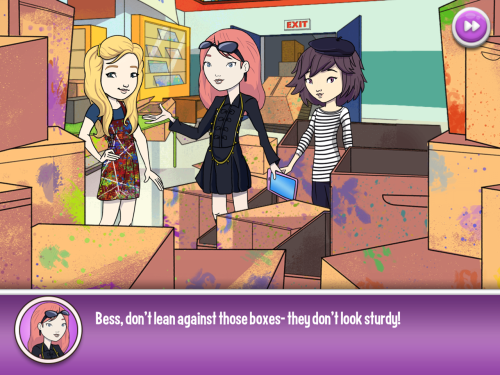 As the detective trio search for clues at different locations, there are frequent dress-up opportunities so the girls can blend in, as good detectives do. This is just choosing from three new outfit options, it would have been great to have separate tops and bottoms, or accessories to really customize the characters.
Nancy Drew: Codes and Clues is a $3.99 purchase, which is quite reasonable considering the number of scenes and playtime. There are no in-app purchases to tempt young players, in keeping with the game's target demographics.
Overall, this is a fun, age-appropriate iPad game. It's a sweet little sister to the Nancy Drew case files games, and it was great to see young girls excited about participating in the tech fair and about programming. Bonus points for not condescending to the classmates they meet in the gym or art studio!

I was so happy to have the chance to partner with Her Interactive on this post. Longtime readers will know that I love the Nancy Drew Dossier series, and I'm always excited by products aimed at introducing more girls to programming and development.