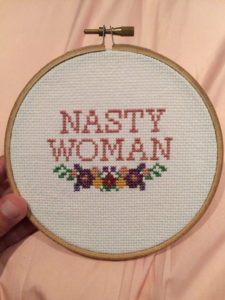 The Nasty Women rallying cry has been a bright spot in a pretty depressing election cycle. After the Republican nominee, an accused rapist and admitted sexual assaulter, insulted pretty much everyone from Muslims to Mexicans, women, China, New Jersey, a disabled reporter, journalists in general, accused Hillary Clinton of being a nasty woman.
Not being "nice" is a big deal to those of us socialized female. We were taught from an early age to be considerate of others' feelings, to be nice in the face of meanness. As adults, we know that not being nice enough has very real consequences. There are frequent stories of women who weren't gentle, nice and considerate enough in rejecting men who were interested in them, and got attacked, assaulted, or killed. Being perceived as too brusque or too bossy can hurt a woman's career, even when those brusque and bossy actions are doing her job or doing exactly what a man in that position would do. Women are constantly expected to be nice.
So I'm delighted by the number of women agreeing that we don't have to return endless insults with niceness. I was reluctantly With Her, but I am honestly pleased to be among other nasty women.
(Amazing photo from ThreeStitchFifteen's Etsy shop.)