My friend (and Taiwan roommate!) Yvette is releasing a children's book, Wayan And The Turtle King. Yvette is a freediver, environmentalist and English teacher, and she's combined all three in this magical children's story.
Wayan And The Turtle King promo video on Biteable.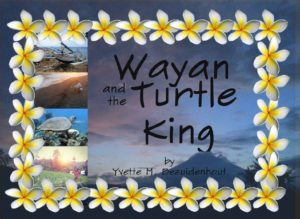 She's releasing Wayan And The Turtle King in English and in Indonesian, in print and ebook, so that everyone can read the sweet story about a boy in the turtle kingdom, and the timely warning about plastic waste in the ocean. The book also includes extension activities to help kids connect the environmental story to their own lives.
The Kickstarter starts today, so when you support or buy a copy through the Kickstarter, you're also supporting the spread of this message through book donations. (I have the feelings about Kickstarter that anyone has after backing games that never got finished. If you've also been burned by spending $20 for a series of sad emails about how the dev team ran into some challenges, but they'll probably have a beta sometime soon,  well then be reassured that there's actually a finished book here.) The Kickstarter will help pay the artist and translator, and help send this book to Indonesian children's libraries.
I hope you'll support the Kickstarter and spread a magical children's story about protecting our oceans.