When I was back in New Jersey a few weeks ago, I mentioned to my parents that I'd helped a little bit with the spinoff game for Shutter Island. (I didn't add that my particular brand of helping had a lot to do with asking the producer about a thousand times to please please warn me if was going to be gross. Sorry about that, Harold!) They seemed pleased, perhaps because I've worn them down by telling them over and over that I've written about a game they haven't heard about in a publication they haven't heard about. Besides,  if you can't tell your parents about minor successes and have them be impressed, really, what are parents for?
"Does that mean you're in the credits with Martin Scorsese?" my dad asked.
"I'm not entirely sure who that is." (Every day with me is like an adventure in pop culture.)
"The director of The Godfather!" my dad said. "Perhaps you've heard of it?"
"I saw that!" I said, "It was kind of gross."
Edit: My old roommate Chris just pointed out that Scorsese is not actually the director of The Godfather, which just proves that nobody reads the credits anyway.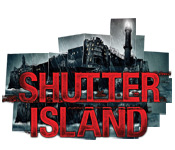 PS: If you would like to play the game, you can download the free trial or buy the game here.